As our kids and students increasingly use mobile apps to connect with new friends and explore their interests, we must stay informed about their digital spaces. Today's blog post is all about the Wink app, a growing platform popular among young people. Let's take a deep dive into the world of Wink.
What is the Wink App?
The Wink app is a mobile app designed to help users meet new people with similar interests worldwide. It isn't a new dating site per se, but rather, it's a social media platform that offers an easy way to make instant friends. You might think of it as a tool for making potential new besties.
The Wink app is connected to your Snapchat account.
When you are on the Wink app, you can view other users' Snap profiles. You then have the option to connect with them by swiping away.
It feels like Tinder, except Wink is intended to make friends rather than a dating app.
Once you have decided to be friends with someone on the app, you can then go to your inbox and chat with that person.
Wink app encourages users to use the app by giving points for logging in daily.
Wink App in the News
As with many apps popular among teenagers, the Wink app has been in the news due to concerns about online safety.

Age Requirement to Download Wink App
The age limit to download the Wink app is 13 years, similar to many other social media apps.
However, we suggest that your child should at least be 16 years old to use Wink as chatting to strangers online is associated with many dangers.
Google play store rates it as needed ' parental guidance' when using the app.
Is Wink App Free?
Yes, the Wink app is free to download and use. But there are in-app purchases in the app. Payment details, like a credit card, are needed for these optional features.
How Does Wink App Work?
Once the Wink app is installed on your kid's phone, they can create a Wink profile, including a full name (or nickname), a profile picture, and their unique interests. They can then start exploring the Wink platform.
The Wink app incorporates a swipe feature, similar to popular dating apps. When you view a person's profile, you can swipe right to send a friend request or left to pass.
You can filter profiles based on age and country. But not by exact location
Users can play games within the app and connect with other users.
There is an in-app currency known as Gems which can be earned by playing games, logging in daily, and sharing the app with others
Is Wink App Safe for Children to Use?
This is where parents and teachers need to pay attention. While the Wink app does have community guidelines to mitigate inappropriate content, the safety of this app for younger users largely depends on how it's used.
Like any social media platform, it has its share of fake profiles and potential exposure to inappropriate content. Plus, it can lead to the sharing of personal information.
That said, the Wink app has customer service representatives who help deal with guidelines violations.
Here are some things you may want to pay attention to :
Limited privacy settings are in place. There is no way to make your profile private in this app
There are adult themes within the app
No age verification system is in place to sign in to the app. This means that anyone can use the app
The reward system keeps users engaged and hooked on the app
Below we give you a more detailed explanation of other things about the app.
Wink App Review: What Parents Should Know
As a parent, understanding the Wink App is essential to help you navigate conversations about its use with your child. Here are key areas you should know about:
Privacy settings
By default, the settings on the app is public since there is no private option.
You do have the option to choose if you would like to follow someone or not.
Users must include age, photo and country into the app.
Interaction with Strangers
While the Wink app can be an excellent way for your child to meet new friends and expand their social circle, remember that it also exposes them to interactions with strangers. This might include people from different age ranges or with other intentions.
If your child signs up as a 13-year-old, they will be exposed to only profiles of others similar to that age.
However, someone with predatory behaviour who is much older can sign up as a 13-year-old to be shown the profile of users of that age group.
We tried the app and found that very quickly, we were getting requests from many strangers asking for our Snap profile.
The alarming thing that came to our attention about the app is that users get points for sharing their Snapchat profile with strangers.
This may encourage young people to share their profiles for the sake of earning points.
Hence, we do not recommend anyone below the age of 13 to use the app.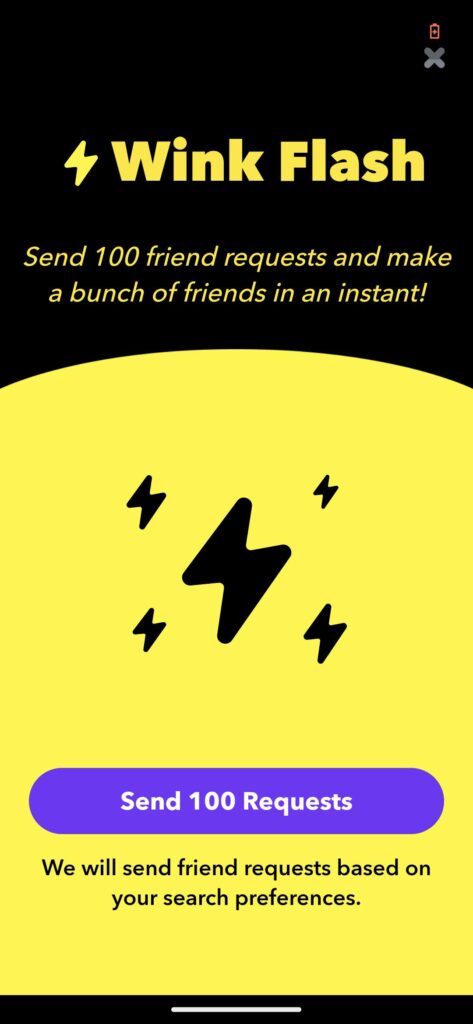 Personal Information
One of the risks of social media and networking apps is the potential sharing of personal information.
Although the app does not share your location, some people to share it in their bio.
The way the search function works is that it shows you profiles of people near to your current location.
Ensure your child understands the importance of keeping personal details private, such as their full name, home address, school name, and email address.
Fake Profiles
Another important thing to know is that not every profile on the Wink app represents a real person. There can be fake profiles used for harmful purposes. Educating your child about this reality and advising them to be cautious when accepting friend requests is crucial.
Online Safety
The Wink app does have community guidelines to mitigate inappropriate content, and customer service representatives who help in dealing with violations.
However, the best defense is a good offense. Regularly discuss online safety with your child, reminding them not to share personal details and to report any content that makes them uncomfortable.
Exposure to Inappropriate Content
Despite the app's rules and regulations, exposure to inappropriate content is always risky. It's important to use these instances as teaching moments to discuss why certain materials are inappropriate and how to handle such situations.
Keep in mind that although most of the profile found on the app is quite safe, there are still profiles containing content like drugs and adult images.
In-app activities
The Wink app is free, but you can earn points by using the app daily.
You will also get points for sharing your Snap profiles, adding friends, encouraging others to join the app and many more.
The only way to connect with others is through the points, hence the app is designed in a way that encourages you to keep using the app.
Although there are no in-app purchases you will be paying to use the app with your time.
Is there bullying on the app?
No there isn't because the only interaction you have in the app is 'will you give me your Snap username?'.
Everything else after that happens in Snapchat.
Are users account verified?
Anyone who has a Snapchat account can create a profile on Wink.
There is no age-verification method in Snapchat, hence there is none in Wink and anyone can create a profile.
There is an option to get verified on Wink. But in order to view only verified account you will need to use the Wink+ feature which is a paid monthly plan.
How to Be Safe While Using Wink App
Block function
There is a block and report feature within the app. So ensure that you teach your child how to use it.
Once a user is blocked they cannot access your child's profile.
Do not share personal information
The safest way to use the Wink app is by ensuring the user's profile isn't revealing too much personal information. A wink profile should be kept vague—blank profiles are often a safer choice. It's also crucial to make use of the report feature whenever encountering inappropriate content.
Concluding Thoughts : Is Wink safe for kids?
While Wink App can be a great app for meeting real people with similar interests, and with proper guidance and safety measures, it can be a good app for young people to make new friends.
However, it definitely comes with a number of risks such as your child chatting with strangers. Also, the reward system within the app can be addictive.
Kids N Clicks recommend that this app is not to be used by anyone below the age of 17 years old due to the concerns raised above.
Remember, regular check-ins and open conversations are the best thing you can do to ensure your child's safety in the digital world. Be informed, stay involved, and help your kids make the best use of technology for learning, connecting, and growing.
We hope you enjoyed the Wink app review in this post. For more reviews on mobile devices and apps that cater to young people, stay tuned to our blog.
FAQ:
Is Wink App a Dating App?
While Wink app enables users to meet new people, it is not officially categorized as a dating app. It's a social networking app where users can meet people from around the world based on shared interests.
Is Wink App Dangerous?
Any app that enables contact with strangers can pose potential risks. While Wink has community guidelines and offers customer support to handle violations, there are still chances of encountering inappropriate content or deceptive profiles. Therefore, it's crucial for parents and teachers to guide young users on internet safety.