With so much information to process, it's only logical that you'd want to save a few videos to view later without opening the TikTok app. Before you learn how to save Tik Tok videos, the first thing you'll want to do is double-check that your iPhone has enough storage space.
Photos and videos take up a lot of storage space, and chances are you have some pictures on your Camera Roll that you don't need. You could go through and manually delete multimedia files you no longer need.
And lastly, it's crucial to examine whether downloading a Tik Tok video could result in copyright violation/copyright infringement issues.
Users cannot upload, share, or send any content that infringes on someone else's copyrights, trademarks, or intellectual property rights, according to TikTok's Community Guidelines.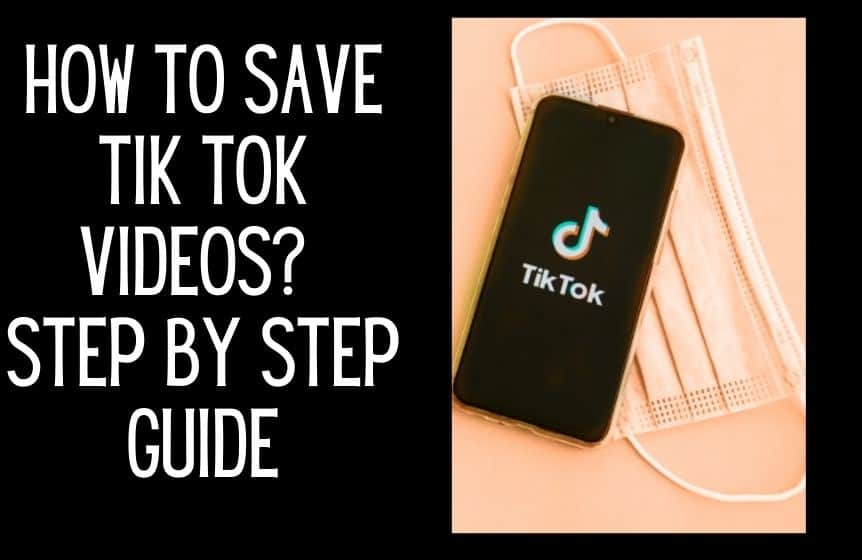 How to save Tik Tok videos?
Posting someone else's content as your own is the most common copyright violation.
To avoid this, whenever a video from the app is shared or downloaded, Tik Tok adds a watermark that includes its logo and the username of the Tik Tok account/TikTok profile page (private account and public account) that initially posted the clip.
To put it another way, if you want to share the video on other social media platforms, make sure the watermark is visible or that you give the user full credit in some other way.
Now that you've got everything set up, it's time to learn how to download a Tik Tok video from the app to your iPhone. (iOS devices)
Here's how you can save one of your videos from your profile:
Open the TikTok app on your phone.
Press the Me button at the bottom of the screen (right corner of the screen).
Select the specific video you want to download from your profile and press the download icon.
Tap the three horizontal dots icon in the bottom-right corner of the screen.
"Save video" should be selected.
If you follow these steps, your TikTok video will be saved to your Camera Roll.
How to save Tik Tok videos without a watermark?
A downloaded Tik Tok video will have a watermark with the app's logo and the account's username. However, there are several options menus for removing the watermark from a TikTok video.
Downloading a Tik Tok video as a Live Photo and then converting it to a video is one approach to removing the watermark. You'll still get a minor watermark, but you'll be able to cut it off quickly. Here's how to do it:
Open the TikTok app on your phone.
Next, go to the video you want to download and click it.
The share icon, which looks like an arrow pointing right, is located in the bottom-right corner of the page.
Select the Live Photo option in the second row of icons by scrolling to the right.
Go to your Camera Roll and open it.
Go to the Live Photo you saved and click the in the bottom-left corner.
Select Save as Video from the drop-down menu.
If you follow these steps, the Live Photo will be converted to a movie on your Camera Roll. There will still be a small watermark at the bottom-right of the screen, but you can clip it out with the cropping tool in the Camera Roll.
The steps mentioned above will work for both android phones and iPhones. You will be able to find the saved videos in your multimedia gallery. (Video downloads folder/Local storage)
Related : How to make viral video on Tik Tok?
How to download Tik Tok videos on PC?
If you want to learn how to download Tik Tok videos on a PC (Desktop computer), you are at the right place. So far, we have seen how to save Tik Tok videos from a mobile device; let us see how to do the same using a PC.
Using a third-party app (Video Downloader/ TikTok downloader), such as Kapwing Studio, to download the movie without a Tik Tok watermark is not recommended; it can be hazardous to your device put your privacy and security at risk.
In the first step, choose the TikTok video you wish to save to your phone or computer.
Select the video you want to download from TikTok on your phone or PC in the first step.
Copy the link from the address bar of the video you want to download.
Paste the video link into the search box at musicaldown.com. Then press the 'download' option. On the next screen, select 'Download mp4 now,' then 'Download video,' on the next screen.
It is one of the easiest ways to download Tik Tok videos on a PC. Always use the latest version of TikTok. You can download the updated version of Tik Tok from Google Play Store (Google Store) or App Store.
If the download does not begin, make sure your internet connection is working properly.
Why won't Tik Tok save my videos?
Tiktok video creators must "allow" you to save a video before you can save it. The video's creator decides whether or not they want people to help them. They can also choose whether or not people can duet in their video. Because the creator has turned off the save option on TikTok, you won't be able to save specific favorite videos.
FAQ:
Does Tik Tok notify the person that you downloaded their video?
First things first, when someone downloads one of their video files, TikTok does not notify the TikTok users. That implies that whether you download someone else's video or someone else downloads yours, the video's producer will not receive notifications from the app informing them of the activity.
Can you automatically save all your Tik Tok videos?
Unfortunately, there isn't a setting that will save all of your TikToks automatically right now. After you've posted a video, you must manually save it.
How to share Tik Tok videos on Whatsapp?
Follow the below steps to learn how to share Tik Tok videos on WhatsApp. Open the Tok Tok app and log in to your profile.
In the first place, from the Tik Tok home screen, search for the video you want to share.
Hit the share button.
Select WhatsApp.
Select the contact you want to send the TikTok video to.
Finally, hit the "Send" button.
The above methods will work for other social media apps as well.
Now that you know how to save Tik Tok videos let us know if you want to learn how to download TikTok data.