Every one of us has a favorite sport or a favorite sportsperson. Whether it is hockey, cricket, basketball, or football, we enjoy watching our heroes on the field.  But not many of us have the in-depth knowledge and history of the sport we like. Here is a list of exciting sports trivia questions to test your sports knowledge.
There are questions along with answers to boost your sports knowledge. The sports trivia questions are divided into various categories, including funny, easy, and challenging questions. 
Additionally, there are questions and answers related to basketball, tennis, baseball, football, etc.
If you are a sports geek then let's get started and test your sports knowledge.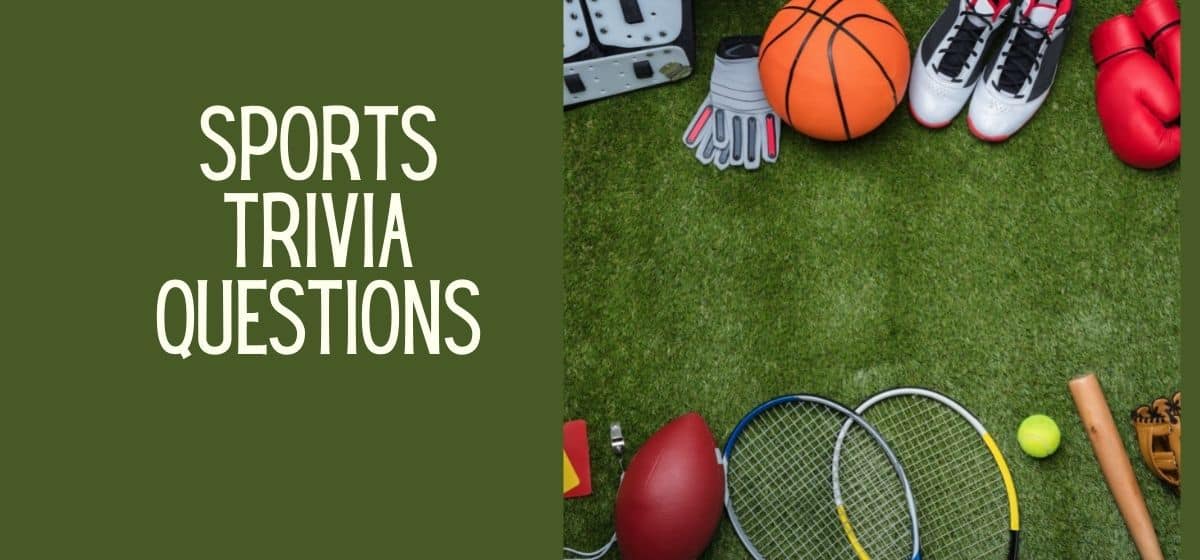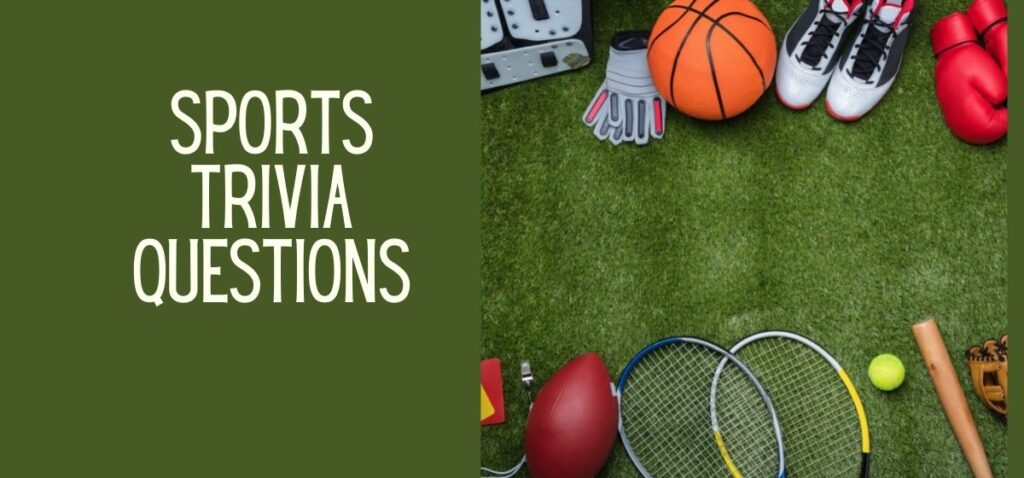 FUNNY SPORTS TRIVIA QUESTIONS AND ANSWERS
Question 1. In his entire NBA career, Michael Jordan wore only three numbers. What are they?
Answer: 12, 45 and 23
Question 2. Lang tree Park- a rugby league stadium is now renamed as?
Answer: Wicked Stadium
Question 3. What is the nickname of the name of the basketball team (men) of New Zealand?
Answer: The Tall Black
Question 4. In basketball, the record for most fouls is associated with whom?
Answer: Kareem Abdul.
Question 5. Mark Twain described the sport as "a good walk spoiled." Name that sport.
Answer: Golf
Question 6. A player of the Chicago Cubs took time off because of his brutal sneeze. Who is he?
Answer: Sammy Sosa
Question 7. Name a sport that has rules like Stableford, Skins and Bingo, Bango Bongo.
Answer: Golf
Question 8. In Harry Potter films and novels, there is an imaginary game played. What is it?
Answer: Quidditch
Question 9. The average golf contains how many dimples?
Answer: 336
Question 10. Name the sport that Pittsburgh Penguins enjoy playing?
Answer: Ice Hockey
Related : Fun animal trivia questions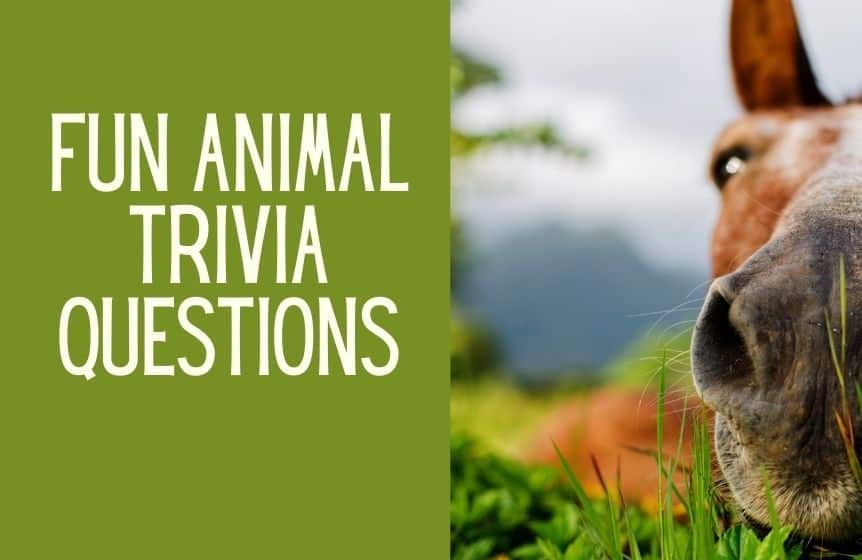 HARD SPORTS TRIVIA QUESTION AND ANSWERS
Question 11. At the time of winning masters, what was the age of Tiger Woods?
Answer: 21
Question 12. What is the motto of the Olympics?
Answer: Higher, stronger, faster.
Question 13. Who is known as "The Golden Bear"?
Answer: Jack Nicklaus
Question 14. A modern sand wedge was invented by which player?
Answer: Gene Sarazen
Question 15. The terms like "Mule Park" and "obsolete fish" are used in which sports?
Answer: Snowboard
Question 16. Tell me the number of sports included in the Summer Olympic 2008?
Answer: 28
Question 17. Which year did the women enter the modern Olympics, and in which sport?
Answer: 1900, Tennis
Question 18. At the major league baseball game, who threw a ceremonial speech?
Answer: William Howard Taft
Question 19. 'New York Titans' was the title of which NFL Team?
Answer: The New York Jets
Question 20. How fast did Venus Williams' ball go in the 1998 European Indoor Championships, Zurich?
Answer: 127.4 miles/hour.
Question 21. In the NBA, name the youngest player scoring 10,000 points.
Answer: Lebron James
Related : TV trivia questions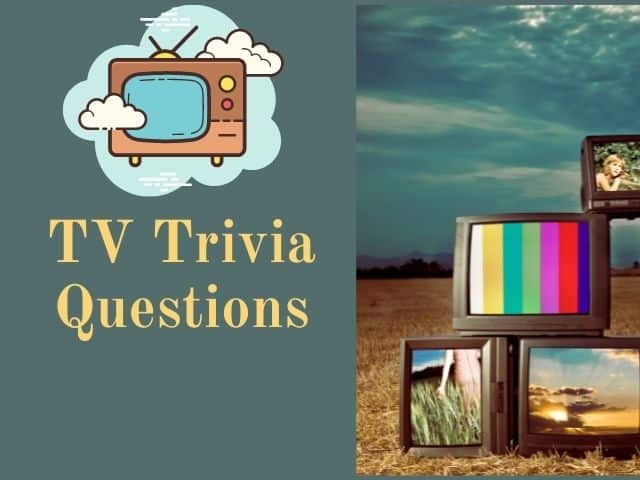 Question 22. Bela Karolyi is the coach of which sports?
Answer: Women Gymnastics
Question 23. Name the first baseball player who appeared in the Wheaties box?
Answer: Lou Gehrig
Question 24. A football team has lightning on their player's helmet. Which NFL team is it?
Answer: Los Angeles charger
Easy sports trivia questions and answers
Question 25. In football, what is the color of goalposts?
Answer: Yellow
Question 26. Name a sport similar to softball?
Answer: Baseball
Question 27. What is the complete form of the NBA?
Answer: National Basketball Association
Question 28. How many players comprise a baseball team?
Answer: Nine
Question 29. A touchdown in football has how many points?
Answer: Six points.
Question 30. In tennis, the ball is hit by which equipment?
Answer: Tennis bat
Question 31. What do the riders ride in Tour De France?
Answer: A bicycle
Related : Tuesday night trivia questions
Question 32. In motorsport, the winner is indicated by which flag?
Answer: Checkered flag
Question 33. How long is a marathon race?
Answer: 42. 195 Kilometres (26 miles 385yards)
Question 34. After how many years are the Olympics been held?
Answer: After four years
Question 35. Name the country that won the first world championship for women.
Answer: The United States
Question 36. Name the country with the maximum time in the summer Olympics and still without winning any medal.
Answer: Liechtenstein
Miscellaneous sports trivia
Question 37. What is the size of a baseball?
Answer: 9 or 9 ¼ inches (in circumference)
Question 38. Name the first woman from the United States to bag a gold medal at the world championship in gymnastics.
Answer: Marcia Frederick
Question 39. In which year was the first Wimbledon tournament take place?
Answer: In the year 1877
Question 40. 'Home run' was earlier used in some other sport before being permanently used in baseball. Name the sport.
Answer: cricket
Question 41. In the history of the NBA, which team has the longest winning streak?
Answer: Los Angeles Lakers
Related : 15 Trivia categories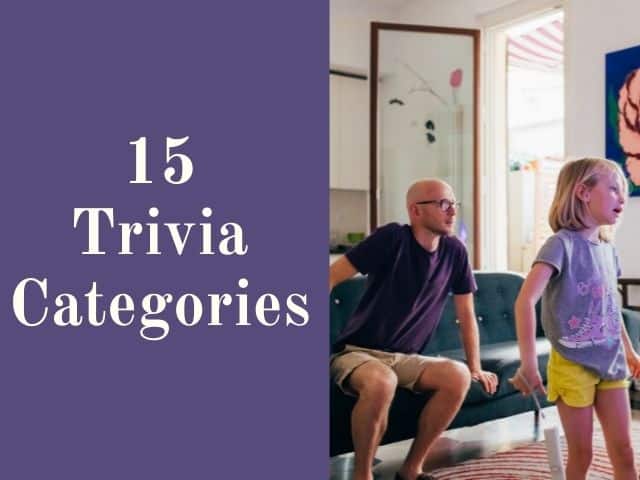 Question 42. Name the country to boycott the Summer Olympics 1980.
Answer: The United States
Question 43. Which country bags maximum NBA titles?
Answer: Boston Celtics
Question 44. In hockey, one NHL player is named the 'Goat.' Who is the player?
Answer: Wayne Gretzky
Question 45. Peyton Manning won his first super bowl against whom?
Answer: He won against the Chicago Bears, leading the Colts to a 29-17 victory.
Question 46. What do the San Francisco 49ers stand for?
Answer: It is a franchise of American Football located in the Bay Area of San Francisco.
Question 47. What is the Rose Bowl Game?
Answer: it is an American football game for college boys, played annually. It is frequently called the Rose Bowl. It is played on New Year's Day (1st January) in Rose Ball Stadium, California.
Question 48: What is the most famous golf tournament in the USA?
Answer: It is known as the Grand Slam which consists of 4 tournaments: The US Open, The Master Tournament, The Open Championship, and PGA
Related : Disney Trivia questions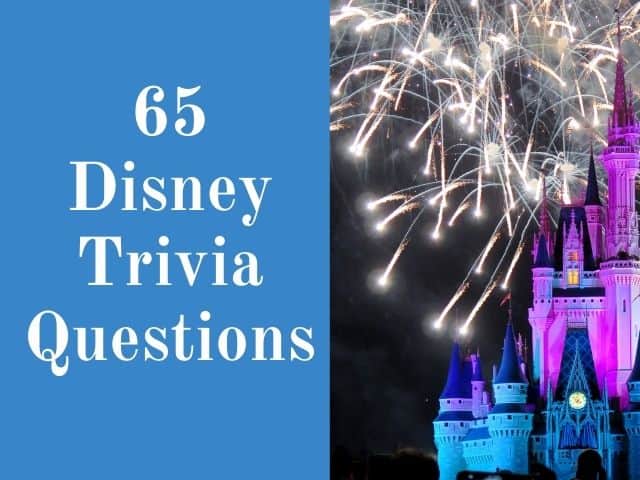 OBSCURE SPORTS TRIVIA
Question 49. Which country played maximum time in Summer Olympics but has failed to bag a single gold medal?
Answer: Philippines
Question 50. For a horse, there are three races required to win The Triple Crown Prize. What are those races?
Answer: Belmont Stakes, Kentucky Derby, and Preakness Stakes
Question 51. Who among Serena Williams and Venus William has won numerous Grand Slam Titles?
Answer: Serena Williams
Question 52. Name the boxer who defeated Mohammad Ali?
Answer: Joe Frazier
Question 53. Name the national sport of Canada.
Answer: Lacrosse
Question 54. What is the size of the Olympic swimming pool in meters?
Answer: Length-50 meters and Breadth-25 meters
Question 55. Name the first African country which qualified for the World Cup for soccer?
Answer: Egypt
Related : Friends trivia questions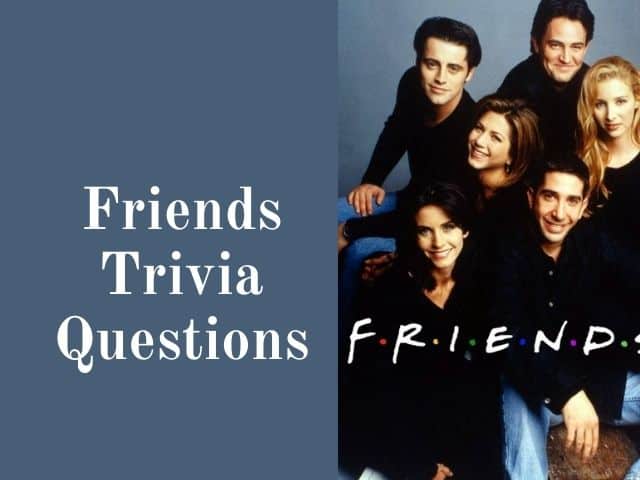 Question 56. Michael Jordan won how many NBA championships against the Chicago bulls?
Answer: Six
Question 57. In the Stanley cup finals, a coach himself came and played for his team. Name the coach.
Answer: Lester Patrick
Question 58. Tell the number of Grand Slams that Roger Federer won in 2006?
Answer: Three
Question 59. Name the two NFL teams to win maximum Super Bowls?
Answer: New England Patriots and Pittsburgh Steelers
Question 60. A female pitcher knocked out Lou Gehrig and Babe Ruth. Who was she?
Answer: Jackie Mitchell
Sports questions for kids
Question 61. Muhammad Ali was famous for which sport?
Answer: Boxing
Question 62. In tennis, zero scores are termed as?
Answer: Love
Question 63. What sport is called the 'King of sports'?
Answer: Soccer
Question 64. Answer:
Question 65. What number of rings does an Olympic flag have?
Answer: Five
Question 66. What part of the body is a ball forbidden to touch in football?
Answer: Hands
Question 67. Which city hosted the Olympics two times?
Answer: Paris
Question 68. Rings in the Olympics are a representation of?
Answer: Continents of the world
Question 69. A net, shuttlecock, and a racket represent which sport?
Answer: Badminton
Related : Impossible trivia questions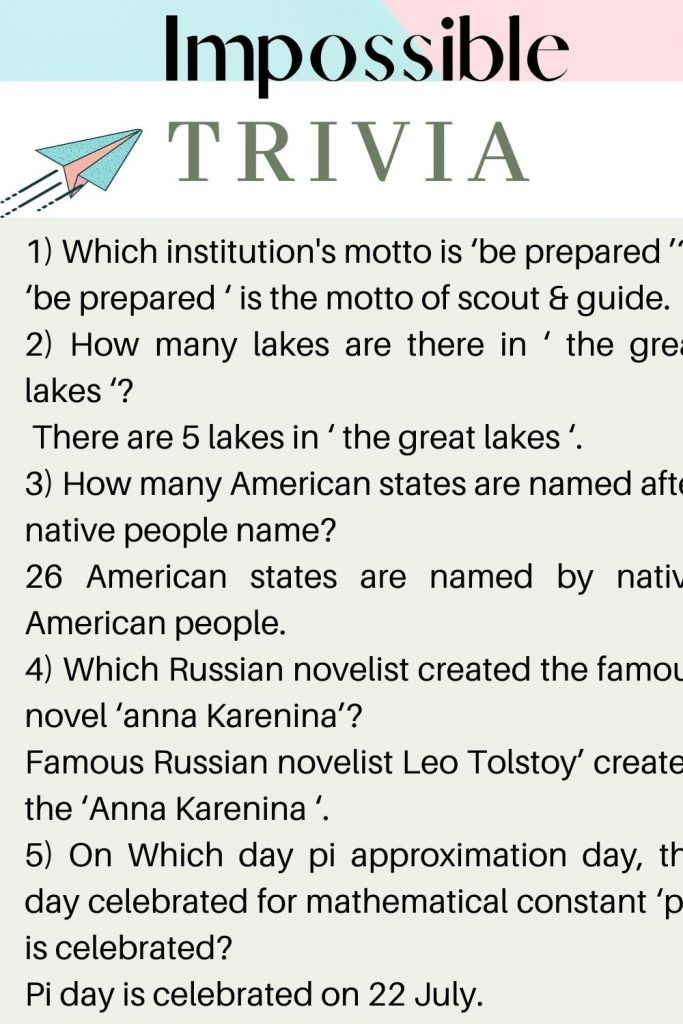 Question 70. What is a football field called?
Answer: Pitch
Question 71. In darts or archery, the center of the target is called as?
Answer: Bullseye
Question 72. Tell the diameter (in inches) of a basketball hoop.
Answer: Eighteen inches
Question: 73. A football team has how many players?
Answer: Eleven
Question 74. On Memorial Day, name the sporting event held.
Answer: Indianapolis 500
Question 75 Who holds the 15th place in the world by the Association of Tennis Professionals (ATP) as the greatest player in the sport of tennis?
Answer: Roger Federer
Question 76 Who is nicknamed "the Great One" in National Hockey League?
Answer: Wayne Gretzky
Question 77 Who was honored as one of the 50 Greatest Players in the history of the National Basketball Association in 1996?
Answer: Kareem Abdul-Jabbar
Question 78 Who was honored as the Most Outstanding Player in the NCAA Tournament three times and became the first-ever Naismith College Player of the Year in 1969?
Answer: Kareem Abdul-Jabbar
Question 79 Who is the five-time holder of the Laureus World Sportsman of the Year award?
Answer: Roger Federer
Question 80 Who is nicknamed "the Great One" in National Hockey League?
Answer Wayne Gretzky
Question 81 Who was known as the greatest heavyweight boxer of all time?
Answer: Muhammad Ali
Question 82: What is the name of Serena William's sister name?
Answer: Venus William
Related : Fun trivia for kids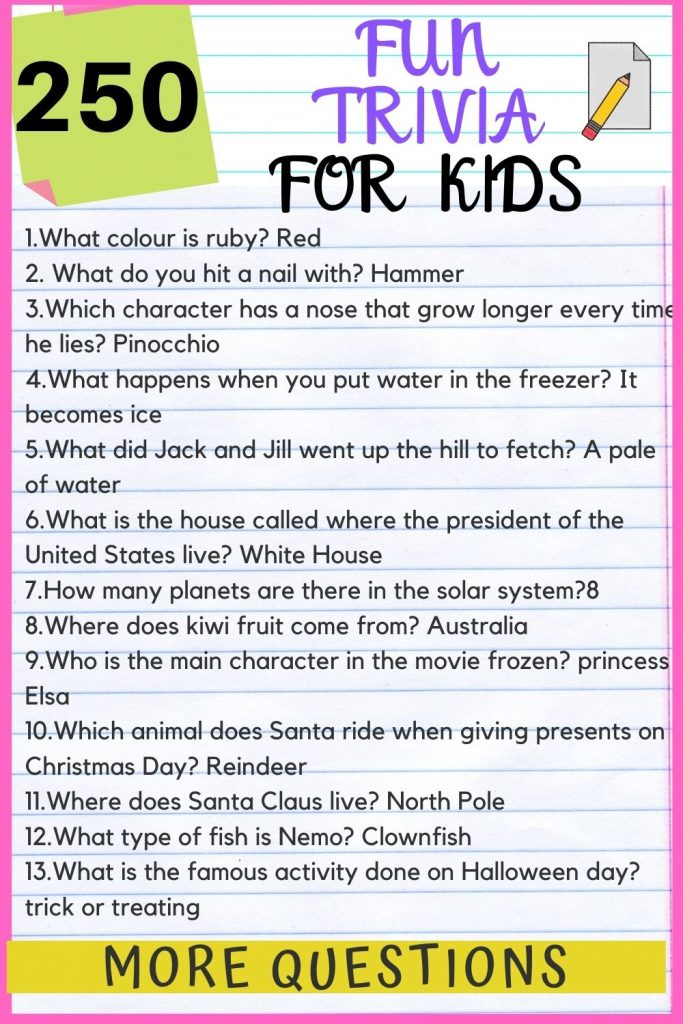 FOOTBALL TRIVIA QUESTIONS
Question 82. An American football team in 1972 was unbeatable during the entire season, including the Super Bowl. Name the team.
Answer: The Miami Dolphins
Question 83. What is the weight of an NFL football?
Answer: One Pound
Question 84. Name the first player to complete 1000 yards in a single season?
Answer: Beattie Feathers
Question 85. Name the first-ever gay player to be included in an NFL team?
Answer: Michael Sam
Question 86. Name the oldest team in the NFL.
Answer: Green Bay Packers
Question 87. In the 1990s, which team had the honor of winning three Super Bowls?
Answer: Dallas
Question 88. Which NFL player is well known as "Sweetness"?
Answer: Walter Payton
Question 89. Name the country that played in every single football world cup?
Answer: Brazil
Question 90. In the NFL, name the only team which neither hosted nor played in the Super Bowl?
Answer: Cleveland Browns
Question 91. In 1969 a player kicked a punt against the Denver Broncos breaking all the records. Who was the player?
Answer: Steve O' Neal
We hope you enjoyed the sports trivia questions above.
With so many questions in your hand, take a quiz yourself, test the knowledge of your friends, and family and find out who knows their favorite sports the best. This quiz is definitely fun for all sports geeks.
Related : Food trivia