Many social media networks have introduced the dark mode feature. In fact, the majority of our devices have an inbuilt dark mode option. Snapchat might be a little game in the game on this. But recently they have finally jumped into the trend and introduced Snapchat dark mode.
Essentially the Snapchat dark mode feature is to prevent strain on your eyes when you are using the app.
Let's take a look at the availability of Snapchat dark mode, how you can enable the function and how to use it.
Keep in mind that Snapchat is for users age 13+
Related : How to delete a story on Snapchat
Snapchat Dark Mode on IOS & Android availability
Snapchat has a new update on its app for all IOS users.
This allows some users to access the dark mode feature on the app.
Currently it is at beta stage and Snapchat is still trying out this feature.
It is expected that the Snapchat dark mode feature will be available for all users within the next few weeks.
Hence, do not be alarmed if you cannot see the feature on your app.
For Android users Snapchat is testing this feature on certain regions only. Hence, be patient.
Now, let's take a look at some of the dark mode options that Snapchat will introduce and how you can enable the feature.
Do remember that at anytime you can always disable this feature on the settings section of the app.
Related : Meaning of SUS in Snapchat
Don't forget to check this out:
What is dark mode used for?
Facebook, Twitter, Tik Tok, and many other social media network provides dark mode feature on their app.
The reason for this is to limit the use of blue light on your phone.
Blue light can improve visibility and readability during the day, but during the night it can cause eye strain.
Blue blight can cause the brain to stop producing melatonin.
This can result in disrupted sleep cycles.
Hence, the dark mode feature is one of the latest trend that everyone is seeking for since many people are now using their devices till late at night.
By turning your phone and apps into dark mode during low-light or evenings you can prevent eye strain and get a better sleep at night.
If you have children (13 years +) using the app then you want to use this feature to ensure that their sleep do not get disrupted from extended use of Snapchat.
Related : What does pending mean on Snapchat?
How to turn on Snapchat dark mode ?
Firstly, you need to ensure that you have the most updated version of Snapchat on your phone.
If you do are unsure about this then go to settings on your phone and click on apps. You can then check if any of your apps require an update including Snapchat.
Once your Snapchat is updated you can open the app click on your picture on the top left corner of the screen.
Click on the 'Gear' icon and click on settings.
Then scroll down to 'App Appearance'.
Click on 'Always Dark' if you want your Snapchat to always have a dark or black background.
You also have the option to click on 'Match System' where Snapchat will detect the IOS appearance of your device and match it to that color scheme when you open the app.
Here's a breakdown to Snapchat's dark mode features :
Always Light : This will keep Snapchat in a bright or white mode all the time.
Always Dark : This option will ensure that your Snapchat is always in dark mode feature, regardless of the time of the day.
Match System : This is aimed at matching the theme of your device. For example, if your phone is set to dark mode during the night then when you open Snapchat at night it will automatically be in dark mode setting.
You can play around with the 3 different options and see which one suits you.
Once you select the option you are comfortable with you will see the changes applied instantly.
Don't forget to check the Growth Mindset Kit designed to raise confident kids growing up with tech

How to schedule dark mode on Snapchat certain time of the day ?
You may not want the dark mode feature switched on all the time. Many people would prefer it during scheduled time of the day. For instance, during school hours or night time to avoid distraction.
By scheduling the dark mode during certain hours of the day you can avoid eye strain when you are using Snapchat.
However, within Snapchat itself you cannot schedule dark mode, but you can do this on your device's system settings.
This basically means when you schedule your phone to go into dark mode during certain hours of the day then Snapchat will also follow that and enable the dark mode on its app.
Here is how you can do this:
1. Choose the 'Match System' option
By choosing the 'Match system' option on Snapchat it will follow the color scheme of your device.
Here is how you can enable 'Match System':
Open Snapchat
Click on your picture (top left corner of the screen)
Click on 'Gear' icon
Click on 'App Appearance'
Click 'Match System'
2. Set dark mode on your device
Follow the steps below :
Open Settings and click on 'Display & Brightness
2. Click on 'Automatic' under the Appearance section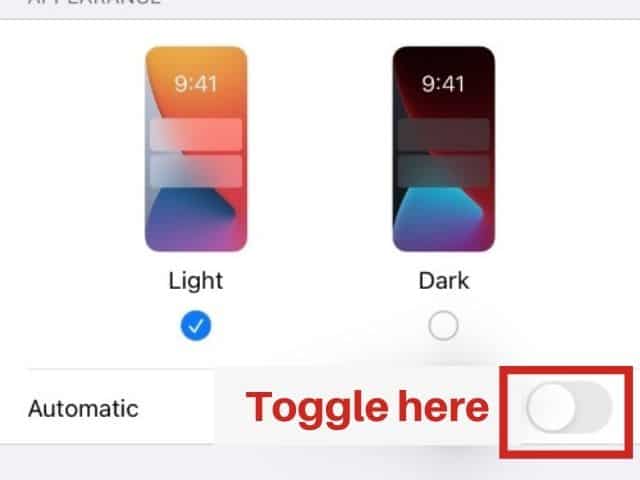 3. Click on 'Options' and choose from one of the options below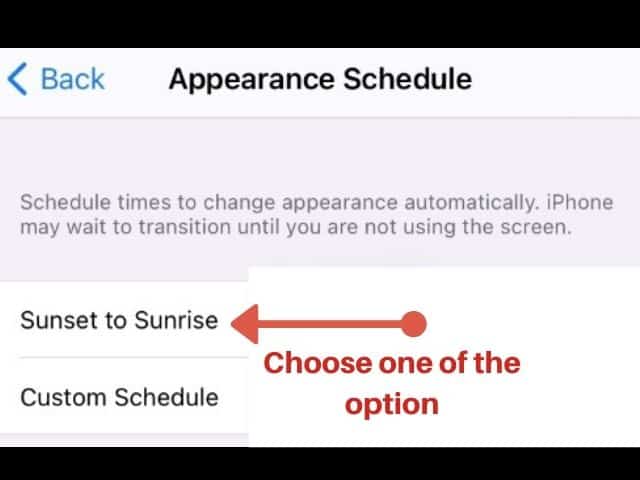 4. Set the schedule when you want your phone to go into the dark mode or even customize the time and day for it.
Sunset to Sunrise : This will automatically change your phone to dark mode in the evenings until the next morning. If you go for this option you cannot choose the timings yourself. Your phone will use the weather app on your device and schedule when sunset and sunrise is depending on the season you are in and your current location.
Custom schedule: This option gives you the flexibility to choose the time and day you want your phone to go into dark mode.
For example, you would like your phone to stay on white light during the weekend as you might be using your phone more. However, during the week you want to set fix schedule to avoid distractions and eye strain.
Related : Meaning of WYO on Snapchat
Is this feature available on Android?
Snapchat has finally released the dark mode feature for Android users.
However, it is not available for all users. They are testing the feature on certain regions only currently.
Be patient as soon enough you will have this option available on your phone.
Here is how you can switch on dark mode on Android :
Click on Settings on your phone
Click on Display & Brightness ( for some Android phone it can also be called 'dark mode'.)
Enable dark mode on your Android phon
Now go to Snapchat and you will see that the app is appearing on dark mode
However, keep in mind that your entire phone will now be in dark mode.
Hopefully, Snapchat will roll out this feature within the app itself for Android users.
Be patient as Snapchat is still testing for bugs and ensuring that the feature does not interrupt with user's experience when using Snapchat.
Can you disable dark mode?
Yes, you can do this by simply clicking on 'Always Light' on the 'App Appearance' setting of the app.
This will switch off the dark mode feature and ensure that your app is always running on white light.
before you go don't forget to check this out
The growth-mindset kit made to help kids discover challenges with confidence. 
packed with amazing worksheets, including ways to manage anxiety and helping children develop positive habits.